The scrooo
– v1.0.1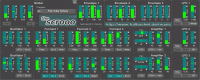 The scrooo is a VST™2.4 polyphonic software synthesizer plug-in for Microsoft Windows® based on a spectral formant synthesis architecture and written in native C++ code for high performance. Main features are:
Up to 32 voices polyphony including portamento
Two band-limited carrier oscillators
Three fully independent formant generator sections
Three formant generation modes
Two amplifiers with volume and panorama control
Three envelopes (ADSR) with exponential slopes
Three low frequency oscillators (LFOs) with tempo synchronization
Fully compatible with SM Pro Audio's V-Machine™
On the two tracks "detour2" and "scrooo", the scrooo is the only audio source (plus some delay, reverb and slight compression).


Found a bug? Want to leave a comment? Please send a mail!