The blooo
– v2.1.5
[10-Sep-2019]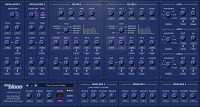 The blooo is a software instrument for Microsoft Windows (VST) and Apple macOS (VST/AU) based on the classic subtractive synthesis architecture. It is written in native C++ code for high performance even on "lighter" systems. Main features are:
Up to 64 voices polyphony including portamento
Two band-limited oscillators including Ring modulation and Soft/Hard sync
Four oscillator waveforms (sawtooth, pulse, sawpulse, sine) with shape control
Additional white noise generator
Two multi-mode four-pole zero-delay feedback filters (lowpass, highpass, bandpass, allpass, phaser) with resonance and panorama control
Three envelopes (ADSR) with exponential slopes
Three low frequency oscillators (LFOs) with tempo synchronization
MIDI Learn – all parameters can be controlled by MIDI CC
Double precision audio processing
Plug-in supports Windows and macOS (32 bit and 64 bit)
On the two tracks "detour" and "bump", the blooo is the only audio source, beefed up just with some delay, reverb and slight compression. However, up to 16 instances of the blooo had to be used… ;-)




The blooo was subject of KVR's One Synth Challenge #102 (OSC).
Go to the official OSC website and listen to the submissions of this great event!
Found a bug? Want to leave a comment? Please send a mail!